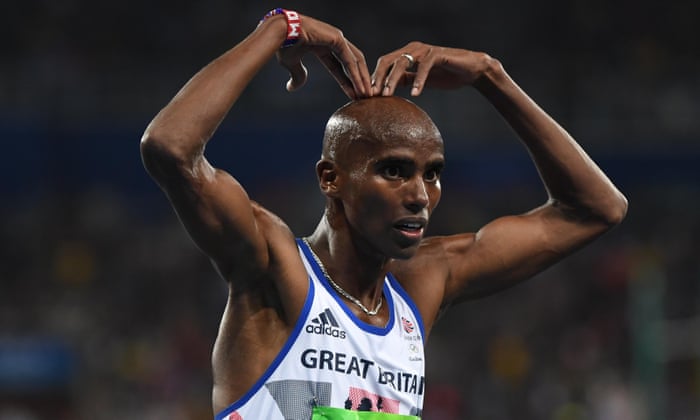 Mo Farah won gold once again, in remarkable circumstances. Photograph: Xinhua / Barcroft Images
It's coming up to 6am in Rio, and you could be forgiven for imagining that the athletes who competed on Saturday are sleeping off their endeavours.
Not so Greg Rutherford, who has been up into the wee small hours mulling over his inability to defend his long jump title. Rutherford was inconsolable after Jeff Henderson of the US took gold ahead of the South African Luvo Manyonga, leaving him with "only" a bronze medal to show for his efforts. "I come here to win and when I don't it's difficult … It's a very hard bronze medal to take," he said in the immediate aftermath of the competition. And eschewing his bed, he's since been baring his soul further on Twitter. Chin up, Greg.
Day nine briefing
Welcome back for day nine at Rio, where we've witnessed
Mo Farah
quite literally picking himself up off the ground to take back-to-back golds with a rousing win in the men's 10,000m final, while
Michael Phelps
signed off on his Olympic career with his 23
rd
gold medal – and his fifth at these Games – in the 4x100 medley relay.
The big picture
Day eight quite simply belonged to two phenomenal athletes: Phelps having finished his Olympic career with 23 gold medals in a Rio campaign whose statistical complexity staggers us all anew, while Farah's brave and brilliant gold medal run to defend his 10,000m title after stumbling onto the track early served as a reminder of how singularly monumental each and every gold medal is at Olympic level.
There was also gold for Jamaica's Elaine Thompson in the women's 100m dash, which thwarted her compatriot Shelly-Ann Fraser-Pryce's attempt at a third successive Olympic crown, though the latter still took home bronze. "There is a big screen back home in my community in Jamaica," Thompson said afterwards. "I can't imagine what is happening there right now." A decent old party, one would suspect.
You should also know:
Despite gunfire, green pools and logistical chaos, Rio's efforts have actually been pretty decent so far
Ibtihaj Muhammad's bronze medal is a vital one in this US summer of Trump
Russian whistleblower Yuliya Stepanova's data has been hacked, says Wada
Team GB roundup
It was a day dominated by Farah's remarkable efforts across at the Olympic stadium,
but
Team GB's golden run at the velodrome also continued today with
Laura Trott
,
Joanna Rowsell-Shand
,
Katie Archibald
and
Elinor Baker
taking gold in the women's team pursuit. It was, according to our own Barry Glendenning, a "seamless, perfect performance: poetry in motion on eight wheels".
Becky James
was equally impressive rising from her sick bed to claim silver in the keirin.
In what will surely be her final Olympic campaign, Jessica Ennis-Hillwrung every ounce of energy out of her body to finish with silver in the heptathlon, having entered the final event of the competition – the 800m – with a 142-point deficit to overcome, but brilliant Belgian Nafissatou Thiam cling on for grim death and prevailed. Ennis-Hill couldn't beat Thiam by the 9.47 second margin she needed at the end, missing out by a couple of seconds.
Great Britain also might be looking at a medal in the golf, whereJustin Rose has moved ahead of Australian Marcus Fraser and SwedeHenrik Stenson for the overall lead with a single round left. The 36-year-old began the day four shots off Fraser's lead but stormed back to take a one stroke lead by the end of the day. Andy Murray will also be playing for gold in the men's tennis singles when he takes on Argentina's Juan Martin Del Potro. The swimming is now done and dusted, but with silver in the men's 4x100 medley relay, Team GB has had its best Olympics in the pool since 1908 with one gold and five silvers.
The unhappiest medalist of the day was Team GB's reigning long jump champion Greg Rutherford, who scraped into the final with his last attempt of the heats and was then beaten into third place by American Jeff Henderson and South African Luvo Manyonga in a dramatic final. But at least he put the disappointment in perspective: "It's a very hard bronze medal to take. If you'd told me 10 years ago I would be gutted with an Olympic bronze, I'd have told you not to be so stupid," Rutherford said afterwards.
Team USA roundup
What you are reading now is not template text, it's just that Michael Phelps keep winning gold medals. There's only so many ways you can say it, especially once our own Andy Bull had pointed out a few days back that Phelps has now even usurped the greatest ancient Olympians. You might not have heard of Leonidas of Rhodes, who dominated the Games between 164 and 152 BC (I think NBC might be showing his events on a tape delay sometime in the next few days) but we assure you, Phelps is now better than him. His team-mates who took gold in the men's 4x100 medley relay don't go too badly either.
Elsewhere Jeff Henderson jumped to gold in the that men's long jump final, though his winning leap of 8.38 metres really does remind you of how insane Mike Powell's 1991 world record of 8.95 metres really is. Henderson's victory was secured with his last jump, which edged out South African Luvo Manyonga by just one centimetre.
If you're still trying to process the sight of Katie Ledecky finishing Friday's 800m freestyle final without a single opponent in a wide-angle camera frame, you're not the only one. Her 11.38-second win for gold shaved almost a full two seconds off her own world record in the event. As our own Bryan Armen Graham points out, her only 'loss' in 20 races in major international competitions was a relay.
Australia team roundup
Kim Brennan wasn't all Australia had to crow about on day eight, but the veteran rower broke a considerable drought with her gold medal win in the women's single sculls – it was Australia's first rowing gold in eight years and only the country's second ever women's triumph. Yet for all of the excitement at the end of the race, the 31-year-old was more concerned by the whereabouts of her dog Ernie, who was waiting with Brennan's husband Scott. "Scott was very proud of me," Brennan said after collecting her medal, "but I wanted to see how Ernie was doing, but he wasn't too interested in watching my race. He wanted the attention to himself." A new mascot for the Australians?
The other medals of the day went to
Anna Meares
in the cycling – where bronze in the women's keirin event made her the most decorated of all Australian Olympic cyclists – while
the women's 4x100 medley relay team grabbed silver in the second-last event of the swimming schedule
. In the last, a barnstorming finish by
Kyle Chalmers
lifted Australia to bronze in the men's 4x100 medley. Yet aside from the failure of
Mack Horton
to win a medal in the men's 1500m, the story of the night was
Cate Campbell
's atonement for individual event misfires with a mighty final leg of that medley relay.
"The world got to witness possibly the biggest choke in Olympic history a couple of nights ago, Campbell had said after she and sister Bronte again bombed out in the final of the women's 50m freestyle. But rather than leaving the Games with steam coming out of her ears, the older sibling got back on the horse and channeled her frustrations into a scything freestyle leg to bring her team home one spot behind Team USA. Fascinatingly, Campbell's time was 1.07 seconds faster than that she posted in the individual final of that event – and would have won her gold. Maybe it'll make her feel even worse.
Picture of the day
It has to be Mo Farah, who even got the thumbs up from his vanquished opponents Paul Kipngetich and Tamirat Tola.
Diary
All times below are local to Rio:
here's the full timetable
tweaked for wherever you are. Or add four hours for UK, add 13 hours for eastern Australia; subtract one hour for east-coast US and four for west coast.
All eyes will be on Usain Bolt and the men's 100m sprint final, which takes place at 22:25 local time in Rio, 25 minutes after the 400m final
Justin Rose and Marcus Fraser will tee off early in the day in the hope of securing gold, with the golf starting at 07:00
American Andrew Thomas Bisek will wrestle for gold against Cuban Rios Hernandez after 10:30
From 14:00 Team USA is in the unusual position of having two entrants in the mixed doubles tennis final as Jack Sock and Bethanie Mattek-Sands take on Venus Williams and Rajeev Ram, while Andy Murray takes on Juan Martin Del Potro in the men's singles gold medal match at 15:30.
In the evening Australia's Boomers take on Venezuela in the basketball, while the evening athletics session brings us finals in the women's triple jump.
Underdog of the day
Goes to women's singles tennis champion Monica Puig, who became Puerto Rico's first gold medallist in any sport. In an almost unbearable climax, she saved six break points and had four match points before closing it out for a rousing win.
Tweet of the day